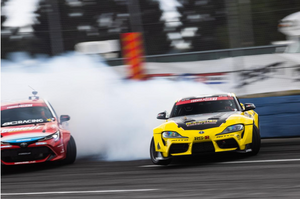 A podium apiece for the Papadakis Racing Toyotas in Seattle
SEATTLE, Washington (September 28, 2020) - Ryan Tuerck racked up another podium result on Sunday to move into the Formula Drift championship lead in the Gumout / Nitto Tire / Mobil 1 Toyota Corolla Hatchback.
"I don't think I had a battle today where there wasn't contact," said Tuerck at the podium on Sunday. "
Today was just straight carnage and 
it feels great to be up here on the box after a rough round like this."
It was a battle of attrition as the season rounded its mid-point and teams turned up the heat to charge for the championship. Many favorites lost out in early rounds. Tuerck's teammate Fredric Aasbo wasn't able to advance past the Round of 32 after a crack developed in his vehicle's intake manifold during morning practice. Even so, he leaves the weekend third in the points and still in the title hunt.
And Aasbo's early exit created an opportunity for teammate Tuerck. The two had been set to square-off in the Top 16 for the second competition day in a row and there was no chance both would be able to climb the ladder to the final round. Aasbo had eliminated Tuerck a day earlier in Top 16 competition to finish on the podium, in second.
"We're happy to have proven the potential of the new Rockstar Energy Drink Toyota GR Supra with a win and a second-place result to start the season," said team owner Stephan Papadakis. "This is a development year for us and we're learning new things about the car every time we put it on the track."
Papadakis said the team opted for an aggressive tune and setup strategy on the new Toyota GR Supra on Sunday, and they are now preparing to make key changes before the Dallas round next month.
"I'm very excited to get back to Texas. I love new challenges and the plan for a new track layout makes it an equalizer for everyone," said Aasbo. "Plus, it's Toyota's hometown and it's always a good time to catch up with our friends there."
A new track layout at Texas Motor Speedway for Rounds 5 and 6 next month will make use of the facility's permanent grandstands to accommodate fans. That competition is scheduled for October 30 to November 1.
Taking a lead from other racing series including NASCAR and IndyCar, Formula Drift has implemented a host of safety precautions for its first events of the season. The venue was closed to fans this weekend in Seattle.
Drivers Aasbo and Tuerck came out swinging at the first two Formula Drift events of the season. Aasbo drove the all-new Rockstar Energy Drink Toyota GR Supra to victory in its competition debut, while new teammate Tuerck earned a pair of podiums in the Gumout / Nitto Tire / Mobil 1 Toyota Corolla Hatchback. 
Formula Drift competition is streamed live online across the series' social media channels and this year's viewership is showing particularly strong viewership. 
Aasbo is the most winning driver in Formula Drift history, with 14 career victories. He joined Papadakis Racing in 2011 and earned the series crown in 2015. He started his Formula Drift career in 2010 as a privateer in a Mark IV Supra and comes full circle this season as he takes his first victory in his all new Toyota GR Supra. 
Tuerck is a leading social influencer and top-tier driver with a career 17 podiums. His down-home charm, commitment to the sport's grassroots, and talent in front of the camera have brought him a social fanbase of over a million followers. Earlier this year, he retired his previous chassis, a powerful Toyota 86.
The Papadakis Racing team began drifting in 2004 and is the most winning team in Formula Drift history, earning the 2015 title with driver Aasbo, as well as back-­to-back championship titles with driver Tanner Foust in 2007 and 2008
---