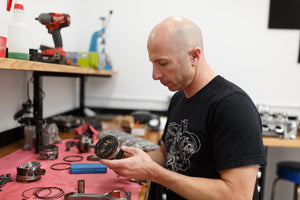 All-access look at monster 1,000 hp 2020 Toyota GR Supra engine plan
LOS ANGELES, California (September 10, 2019) - In the latest episode of his popular 1,000 horsepower 2020 Toyota GR Supra series on YouTube, master engine builder Stephan Papadakis breaks down the inner workings of a four-stroke motor while showcasing the design, prototyping and manufacturing of components he will use to triple the all-new Supra engine's power output.
Watch it here: https://www.youtube.com/watch?v=E0K2aoEwgV8
"We learned a lot from tearing down the engine in Episode 1 and we're encouraged to find a lot of potential in the new 2020 Toyota GR Supra," said Papadakis. "Now, we take all of our experience building engines for race cars and set the 1,000 horsepower plan in motion."
Last month's episode, an engine teardown video, generated 2.5 million views on YouTube in a matter of days.
The GR Supra's engine is all new. It comes equipped from the factory with a turbocharged inline six cylinder 3.0-liter engine rated at 335 horsepower and 365 lb.-ft of torque.
"In many ways, it's like we're on a treasure hunt without a map," said Papadakis. "We know there's a thousand horsepower out there somewhere and now we're exploring to see where we will find it."
It will take resourcefulness, experimentation, and a community of technical partners to push performance limits to triple the new engine's power output. The video series offers a rare glimpse into this often secretive process.
Targeted for development in this episode are pistons, rods, the cylinder head, and the intake manifold, components that sport compact builders typically modify during a high-power build. This episode includes contributions from Papadakis' powerhouse aftermarket partners including JE Pistons and Mountune, who are adding their expertise to the project.
The brand new B58 engine follows the beloved 2JZ model from the previous generation Supra. First introduced in the 1990s the 2JZ engine enjoyed more than 20 years of production. It remains a favorite of the aftermarket, with many tuners and racers still modifying it today for high-performance builds.
This is the second in a four-part YouTube series on the PapadakisRacing channel. The debut episode last month showing Papadakis and his team tearing into a brand new, 500-mile 2020 Toyota GR Supra at their Southern California shop has generated more than 2.8 million views to date.
Subscribe to https://www.youtube.com/user/PapadakisRacing to be notified as the project unfolds and new episodes are released.
Papadakis is a legend of sport-compact racing. His winning vehicles defy expectations and lead industry trends. He established his reputation as an innovator in the 1990s with the first front-wheel-drive, tube-chassis drag car in the U.S. His team earned multiple records and championships, turning in elapsed times and trap speeds previously thought unattainable in front-drive drag cars.
Since moving to Formula Drift in 2004, Papadakis' winning vehicles include the landmark V8-powered Scion tC, and the current 1,000-horsepower, 4-cylinder rear-wheel-drive converted Toyota Corolla Hatchback -- which won its first outing in 2018 and is fighting at the front of the Formula Drift Championship this season. Two of his competition builds have been displayed in Los Angeles' Petersen Museum.
On YouTube, Papadakis has found a strong audience for his regular content uploads focusing on the technical side of racing and vehicle performance. Channel content has generated millions of views over the past few months and it is approaching 300,000 subscribers.
This four-part video series is a production of Red Team LA in collaboration with Papadakis Racing.
---