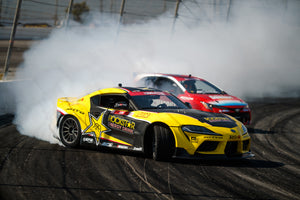 Formula Drift season to start in September with Aasbo and Tuerck for Papadakis Racing
Carson, CA (June 12, 2020) -- Fredric Aasbo and Ryan Tuerck are preparing for a fall start to the 2020 Formula Drift season after the series announced an adjusted schedule for the eight-round championship that now starts this September.
It's a delayed start to an exciting season for Papadakis Racing with champion driver Fredric Aasbo debuting the all-new Rockstar Energy Drink Toyota GR Supra. He will be joined by Tuerck, who will drive the 
Gumout / Nitto Tire / Toyota Corolla Hatchback.
Until the start of the season, the team will remain focused on vehicle development and will share exciting new videos as the process continues. On Friday, the team revealed the first at-track test footage of the new Supra on YouTube 
HERE.
On the RyanTuerck YouTube channel, 
the popular driver has been showcasing project car builds on his active vlog, while 
Papadakis Racing 
created a fully digital team launch in collaboration with new tire partner Nitto Tire in April, and recently released the stop-motion animation short "Paper Drift" on the PapadakisRacing YouTube channel. 
Papadakis has found a strong audience for his videos focusing on the technical side of racing and vehicle performance. His YouTube channel is approaching half a million subscribers and fans can expect regular content uploads between now and the start of the 2020 competition season.
At a recent private test at the legendary Irwindale Speedway, the drivers got behind the wheel of their 2020 race cars for the first time and made a couple of tandem passes. Photographer Larry Chen caught the first still images, which are being shown today for the first time. The first videos of the team in action will be released in the coming weeks.
Formula Drift on Thursday announced an adapted competition schedule for 2020 that supports the national efforts to recover from COVID-19. The calendar includes eight rounds of doubleheader competition. 
"It is our intention to provide the best possible experience for everybody in attendance - fans and teams alike," said Jim Liaw, President of Formula Drift. "We will be following all guidelines to help ensure the safety of everybody involved, including the public, our staff, the teams, all support staff and more."
The series is issuing refunds in the next 14 days for those who had purchased tickets to canceled rounds.
FORMULA DRIFT 2020 COMPETITION SCHEDULE
Round 1 & 2:
September 4-6 // World Wide Technology Raceway (St. Louis, MO)
Round 3 & 4:
September 25-26 // Evergreen Speedway (Seattle, WA)
Round 5 & 6:
October 16-18 // Texas Motor Speedway (Dallas-Ft. Worth, TX)
Round 7 & 8:
November 20-22 // Irwindale Speedway (Los Angeles, CA)
Each round will be streamed live. 
Formula Drift is a partner of CBS Sports.
Aasbo is the most winning driver in Formula Drift history, with 13 career victories. He joined Papadakis Racing in 2011 and earned the series crown in 2015. He started his Formula Drift career in 2010 as a privateer in a Mark IV Supra and comes full circle this season as he takes the helm of his all new Toyota GR Supra.
Tuerck is a leading social influencer and top-tier driver with a career 14 podiums. His down-home charm, commitment to the sport's grassroots, and talent in front of the camera have brought him a social fanbase of over a million followers. Earlier this year, he retired his previous chassis, a powerful Toyota 86, sparking speculation about his next move.
The Papadakis Racing team began drifting in 2004 and is the most winning team in Formula Drift history, earning the 2015 title with driver Aasbo, as well as back-­to-­back championship titles with driver Tanner Foust in 2007 and 2008.
---