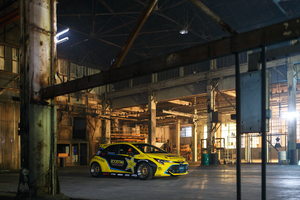 Fredric Aasbo and Papadakis Racing unveil new for 2018 Toyota Corolla Hatchback
NEW YORK, New York (March 28, 2018) - Papadakis Racing on Wednesday unveiled the all-new Rockstar Energy Drink / Nexen Tire Toyota Corolla Hatchback as part of Toyota's new vehicle launch at the New York International Auto Show.
Champion driver Fredric Aasbo will pilot the modified Toyota Corolla Hatchback in the 2018 Formula Drift series. Its competition debut is set to take place April 6 and 7 at the series opener on the Streets of Long Beach.
"This car is so much fun to drive," said Aasbo. "Everybody who loves drifting knows about the Corolla's iconic heritage in the sport and I'm excited to continue that legacy with the Rockstar Energy Drink / Nexen Tire Toyota Corolla Hatchback."
Team owner Stephan Papadakis has built a reputation for challenging the status quo with his innovative competition builds. Based on the brand new Toyota Corolla Hatchback, the rear-wheel drive converted Rockstar Energy Drink / Nexen Tire Toyota Corolla Hatchback produces 1,000 nitrous-boosted horsepower from its four-cylinder turbocharged Toyota 2AR engine.
"Toyota has a long history of partnership with Stephan Papadakis, Fredric Aasbo and the Papadakis Racing team, so we're thrilled that they're bringing the new Toyota Corolla Hatchback to track for the 2018 season," said Laura Pierce, motorsports general manager for Toyota Motor North America (TMNA). "Stephan and his team build incredible vehicles and they've done it again with this 1,000 horsepower Corolla Hatchback. We're eager to see Fredric get sideways in the new Corolla and excited for the Formula Drift season to kick off for our entire Toyota Racing team."
The Papadakis Racing team worked closely with TRD and Jon Sibal to develop competition carbon/kevlar body panels for the vehicle and its sticky Nexen N'fera SUR4G tires are mounted on striking gold Motegi MR406 wheels. The car features a dog-engagement manual transmission, a Borg Warner EFR turbo, AEM Infinity-8 fuel injection and RS-R suspension.
"One of the things that's so great about drifting is that its rules give us a lot of freedom and creativity in the builds," said Papadakis. "There's no other series where you see such variety on the track. The cars are modified for the sport, but every one of them starts on the production line just like the car you drive to work every day."
The team's first rear-wheel drive drifting conversion turned heads in 2009 when driver Tanner Foust campaigned a TRD V8 powered Scion tC in the series. Aasbo joined the team in 2011 to campaign the next-generation Scion tC -- this one powered by a four-cylinder turbocharged engine. In 2017, the team developed its first Toyota Corolla and now launches its most powerful new build to date.
"We are excited to see Fredric hit the track with the all new 2019 Corolla Hatchback this year," said Jordan Pauly, Vehicle Marketing and Communication lead for the Corolla Hatchback. "With its new design and enhanced driving dynamics, this all-new Corolla will really turn some heads."
---