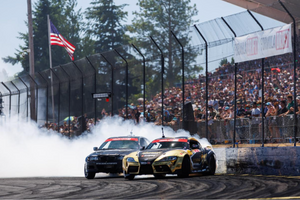 Fredric Aasbo and Ryan Tuerck fight for Formula Drift title
SEATTLE, Washington (August 7, 2022) – With two stops remaining in the 2022 Formula Drift championship, Fredric Aasbo and Ryan Tuerck are both fighting for the title. The Papadakis Racing Toyota drivers are holding second and third in the points in an exciting season that has seen a different winner at every competition so far.
"One strong weekend now could put either of them on top," said team owner Stephan Papadakis. Tuerck opened the season with a perfect weekend in Long Beach, while Aasbo claimed his first win this year at Round 2 in Atlanta.
Both team drivers fought hard through the Top 8 in Seattle and finished the weekend in the same points positions as they entered it. Matt Field leads Aasbo by 56 points, while Tuerck is another three points behind his teammate. There are a maximum 103 points available each weekend -- 100 for the event win and three for top qualifier.
Toyota leads the Manufacturer's Cup, while partner Nitto is second and within striking distance of the Tire Cup.
The team is now preparing to take on a brand new track next month for Round 7 at Utah Motorsports Campus just outside of Salt Lake City. Papadakis said he is excited about the opportunity to conquer the all-new venue.
"It's a real leveler. Nobody has done this kind of competition there before and we hope we can capitalize on our experience as a team with setups and car prep, and our drivers' ability to learn new tracks quickly," he said.
In Seattle this weekend, defending champion Aasbo advanced past Joshua Love in the opening round of 32. He met Toyota teammate Ken Gushi in the Top 16 and advanced when judges faulted his rival for contact during their match that sent Aasbo spinning into the wall. His weekend ended when he slapped the wall and straightened his wheels during the Great 8, advancing opponent "Rad" Dan Burkett.
Tuerck qualified 10th and defeated Kyle Mohan in the Round of 32 before facing Wataru Masuyama in a one-more time battle in the Top 16. His day ended in contact with Chelsea DeNofa in the Great 8.
The Papadakis Racing team began drifting in 2004 and is the most winning team in Formula Drift history, earning the 2021 and 2015 titles with driver Fredric Aasbo, as well as back-to-back championships with driver Tanner Foust in 2007 and 2008. Tuerck joined Papadakis Racing in 2020 and has shown strong results, bringing home a third-place championship trophy in his debut season with the team and sixth overall in 2021. Partner Toyota has won the manufacturer's cup seven times since 2014.
Drifting is a high-skill, high-powered motorsport with an emphasis on car control. In the Formula Drift series, drivers compete in knockout heats on a closed course, sliding sideways in trials judged on speed and style. With origins in Japan, the sport has rapidly grown to one of the most popular youth-oriented motorsports in the world. Here in the United States, Formula Drift officially launched in 2004 and its national schedule of eight events routinely host capacity crowds, while live-streamed multi-platform broadcasts attract millions of online viewers.
---