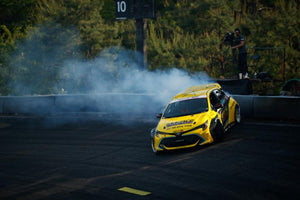 Fredric Aasbo fights hard in New Jersey
WALL, New Jersey (June 3, 2018) - Fredric Aasbo is in a close championship fight with a familiar rival as the 2018 Formula Drift season enters its second half. Aasbo trails defending champion James Deane by just 17 points with four events remaining in 2018.
A strong qualifying performance at Wall Speedway saw Aasbo drive the Rockstar Energy Drink / Nexen Tire Toyota Corolla Hatchback to the fourth position in the competition ladder.
From there, he advanced past Faruk Kugay in the Round of 32 to meet Forrest Wang in the Top 16. But the driver's day ended early when a rare misstep saw him make contact with the trackside guardrail that has given Wall Speedway its reputation for treachery.
Known as "The Gauntlet," the New Jersey track was especially difficult this weekend, with a number of teams struggling to avoid contact. The event ran long with delays for officials to clear damaged vehicles.
While leading the close battle with Wang, Aasbo tapped guardrail, forcing a line adjustment. "I think I got into my own head a little," said Aasbo. "I felt I had to race away from Forrest and went wide on the first corner. That was all it took."
The vehicles made contact and both cars spun. The judges deemed the contact unavoidable for Wang and awarded fault to Aasbo. The decision was controversial, splitting fans in the packed house. "We've had a great outpouring of support, which has been really nice," said Aasbo. "But we accept the judges' decision."
The team called for a competition time-out and made an impressive effort to return their damaged vehicle to competition within the allotted five minutes. Despite an aggressive chase drive, however, Aasbo couldn't overcome the incomplete first run.
"Fredric was driving hard and the car was competitive," said Stephan Papadakis, owner of Papadakis Racing. "Mistakes at Wall are amplified by the steep banking and this wasn't our weekend. Overall, we've had a strong year and this is just a little setback. We're looking ahead and feeling positive."
Aasbo has achieved a podium result at each of the three previous rounds this season, with a win at the season opener this April in California, third in Florida two weeks later, and a second-place result in mid-May at Road Atlanta.
The team now returns to Papadakis Racing headquarters, in Hawthorne, California, where the Rockstar Energy Drink / Nexen Tire Toyota Corolla Hatchback will receive a mid-season rebuild. The Formula Drift season resumes in Monroe, Washington, July 20-21, for the fifth stop in the eight-round series.
Aasbo now returns to a series of Gatebil events in Europe to keep his skills sharp before returning to the USA.
Formula Drift enjoys a dedicated and engaged audience with sell-out crowds all season long. This season, each livestream broadcast is averaging ore than two million viewers, while Facebook impressions for the previous competition at Road Atlanta numbered 16 million.
---