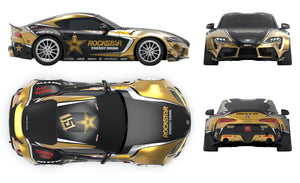 Fredric Aasbo goes gold for 2021
LOS ANGELES, California (February 12, 2020) - The 2021 Rockstar Energy Toyota GR Supra will showcase a new look this season when Papadakis Racing returns to Formula Drift competition. The vehicle is going gold to match the brand-new visual identity of title sponsor Rockstar Energy.
"The gold feels like a winner," said Aasbo. "It's a fresh start for a new season that's all about the hustle, and I'm excited to bring a new look to the series this year."
The livery is inspired by the new black and gold debuted Sunday in a new thirty-second advertisement with two-time Grammy-nominated rapper Lil Baby during the Super Bowl LV pre-game show. Fredric Aasbo's 2021 competition vehicle is the first car in the energy drink's motorsport roster to offer a preview of its new livery. Top designer Jon Sibal worked with the Papadakis Racing team to produce the digital preview ahead of 2021.
"It's an honor to work with Rockstar Energy to create a new look for the racing team," said team owner Stephan Papadakis. "It has been fun to take some time in the off-season to work with our title partner to reinvent our identity."
Aasbo joined the Rockstar Energy family in 2015, sealing his debut season with a championship title. He has represented the energy drink brand ever since, campaigning the distinct color scheme on his vehicles in the USA and Europe.
PepsiCo acquired Rockstar Energy last year and introduced its new creative, fresh packaging, dialed-up digital components, flavor innovations, and new stars joining the Rockstar Energy ambassador family. The portfolio-wide global visual identity refresh was created entirely in-house by PepsiCo's Global Design team and features a more modern and timeless star logo.
After its Super Bowl premiere, the "Spotlight" campaign will continue to roll out on multiple platforms during the first quarter of 2021, with additional activations planned throughout the year. Look for more from the Rockstar Energy Toyota GR Supra in-store and online.
Aasbo joined Papadakis Racing in 2011 and earned the series crown in 2015. He started his Formula Drift career in 2010 as a privateer in a Mark IV Supra and came full circle in 2020 with his first victory in the all-new Toyota GR Supra. He is the most winning driver in the series, with a record 15 career victories.
Ryan Tuerck will join Aasbo on the team again in 2021, with a full team reveal planned for this spring before the season starts in May.
Last season, the Papadakis Racing team proved their powerhouse potential and delivered an exciting challenge to their Ford rivals. Both drivers scored event wins and held firm at the top of the standings all season long. When the dust finally settled after a challenging finale weekend in November, Tuerck earned third in the championship and Aasbo fourth. With a season of development on Aasbo's new Toyota GR Supra and seat time for Tuerck in his new competition car, the Papadakis Racing squad promises to be a formidable challenger on track in 2021.
Formula Drift again promises eight exciting competition rounds and enormous digital reach in 2021. The season is scheduled to run
The Papadakis Racing team began drifting in 2004 and is the most winning team in Formula Drift history, earning the 2015 title with driver Aasbo and back-to-back championship titles with driver Tanner Foust in 2007 and 2008.
---