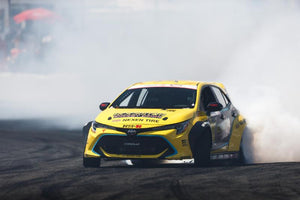 Fredric Aasbo holds second in Formula Drift standings
MONROE, Washington (July 23, 2018) - Fredric Aasbo is holding on to second place in the battle for the 2018 Formula Drift title, chasing defending champion James Deane into the final three rounds of the series. Aasbo is 85 points back from his rival after a challenging event this weekend in the Pacific Northwest.
After sailing into a Top 5 qualifying spot, Aasbo advanced past series newcomer Federico Sceriffo to meet Matt Field in the Top 16. "We had a strong start to the weekend," said Stephan Papadakis, owner of Papadakis Racing. "The car was performing well and Fredric made a great first qualifying run."
But the team's luck turned in the Round of 16 competition. As Aasbo squinted into the setting sun, he misjudged a turn and put two wheels off the course, then made contact with his rival during an attempt to get back on line. He wasn't the only driver to struggle with the same issue and there were several upsets in early rounds.
"I lost my reference point to initiate the next corner," said Aasbo. "Part of the challenge in this sport is trying to foresee the unknown. Even though others made the same mistake, it's still a tough pill to swallow."
Aasbo started the season with a victory at the opening round in Long Beach, California. He then went on to finish third in Florida for the second round, and second place at Road Atlanta, Georgia, setting up a strong position in the championship hunt.
Only a few short weeks remain before the sixth event of the calendar, in St. Louis, Missouri, August 10-11. The venue is a new one for the series, which Aasbo hopes will play to his advantage. The experienced driver spends his winters finding lines on frozen lakes and typically performs well on a new track.
Next, Aasbo is heading to Japan to the homeland of Toyota to take part in celebrations of the iconic AE86 Corolla before returning to the USA for the next round in the series.
Formula Drift enjoys a dedicated and engaged audience with sell-out crowds all season long. This season, each livestream broadcast is averaging more than two million viewers, while Facebook impressions for the previous competition at Road Atlanta numbered 16 million.
Drifting is a high-skill, high-powered motorsport with an emphasis on car control. In the Formula Drift series, drivers compete in knockout heats on a closed course, sliding sideways in trials judged on speed and style. With origins in Japan, it is one of the fastest growing forms of motorsport in the world. An average of 2 million fans from around the world watched the popular live stream coverage from each round of the 2018 season. Broadcast coverage on the CBS Sports Network headlines packaged content that includes social channels Instagram, Facebook, YouTube, and Twitch.
---