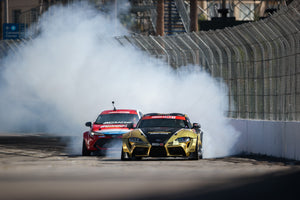 Fredric Aasbo leads Formula Drift points with one round to go
LONG BEACH, California (September 19, 2021) – A big weekend for the Papadakis Racing Toyota team in Long Beach saw Fredric Aasbo and the Rockstar Energy Toyota GR Supra earn a second place result and move into the Formula Drift series points lead ahead of next month's season finale in Irwindale, California.
The result also vaults Toyota to the top of the Auto Cup standings, while partner Nitto Tire extends its lead in the Tire Cup rankings.
"It felt like a very long weekend and after my big crash on Friday I don't think anyone expected us to end up on the podium," said Aasbo. "I keep going out there and putting everything I have on the line and these guys keep giving me a car that is working flawlessly. Big thanks to everyone who supports us."
Aasbo spun out during Friday practice and heavily damaged his vehicle before qualifying. The team patched the Rockstar Energy Toyota GR Supra back together in time for the session and Aasbo delivered a strong, second-place qualifying run.
The team returned to their Carson, California, shop for an overnight repair session where they faced a moderate earthquake before getting down to work. The shaker proved little more than a jolt and they were able to bring the car back to the track Saturday morning in fighting trim.
Aasbo's crew chief Shawn Hillier started Saturday's event with a marriage proposal to his longtime girlfriend Vivian Nguyen from the grid during the official opening ceremonies. She said yes. The couple originally met at the event 14 years ago.
It was a much-anticipated return to the challenging Grand Prix of Long Beach street course, which traditionally opens the Formula Drift season. Drivers must thread the needle between intimidating track walls, sliding sideways at 90-plus miles per hour through Turns 9, 10 and 11.
It has been a year and a half since competition has taken place there and the event proved a big draw for fans, who overflowed grandstands and crowded into the vendor display and pit areas during scheduled breaks in the action. Fans were rewarded with multiple one-more-time re-runs and intense action through the final battles as Aasbo bested Vaughn Gittin Jr. in the Final 4 and earned second-place after a close fight with veteran driver Odi Bakchis.
For his part, teammate Ryan Tuerck qualified seventh in the Gumout / Nitto Tire / Mobil 1 Toyota Corolla Hatchback and was looking strong on track until he spun out on an unexpected patch of water that escaped from the vendor area and doused the track during his Top 16 battle against Wataru Masuyama.
As the series approaches its season finale in Irwindale, California, October 22-23, Aasbo leads the standings by 19 points over second-place challenger Chelsea DeNofa. The series awards 100 points for an event win and Tuerck is sixth and still mathematically in the chase.
So far this season, Aasbo and Tuerck have scored a combined seven podium results in seven rounds of competition. The Papadakis Racing team began drifting in 2004 and is the most winning team in Formula Drift history. Aasbo has 16 career wins to date and earned the 2015 title. The team also won back-to-back championships with driver Tanner Foust in 2007 and 2008.
Drifting is a high-skill, high-powered motorsport with an emphasis on car control. In the Formula Drift series, drivers compete in knockout heats on a closed course, sliding sideways in trials judged on speed and style. With origins in Japan the sport has rapidly grown to one of the most popular youth-oriented motorsports in the world. Here in the United States, Formula Drift events routinely host capacity crowds, while live streamed multi-platform broadcasts attract millions of online viewers.
---