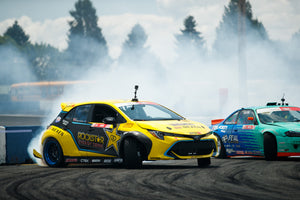 Fredric Aasbo leads points after Seattle shakeups
MONROE, Washington (July 21, 2019) – Fredric Aasbo and the Rockstar Energy Drink / Nexen Tire Toyota Corolla Hatchback maintain a slim lead in the Formula Drift championship points, despite a host of upsets this weekend that sidelined the top three title contenders in the event's Round of 16. 
"It was definitely an exciting day for drifting to see all those shakeups," said Aasbo. "That's one of the things I love about this sport: you have to put it all out there for every battle and there's no predicting what can happen."
Early round drama included big contact between former champion Chris Forsberg and Jeff Jones in the Top 32, and a surprising Round of 16 where the three top drivers in the championship points heading into Seattle -- Aasbo, Aurimas "Odi" Bakchis, and Ryan Tuerck – all failed to advance.
The challenges began in qualifying for Papadakis Racing, when a critical bolt vibrated loose causing a loss of engine oil pressure that resulted in Aasbo scoring an incomplete on his first attempt. After putting in a conservative performance in his second run, Aasbo found himself in the unusual position of starting in the bottom half of the qualifying bracket.
He advanced through his opening match against Kevin Lawrence, then faced longtime rival James Deane in the Round of 16. The two drivers are leading talents in the series with a long history of friendly and fierce competition. On Saturday, Aasbo pushed the limits of their first head-to-head match then sped too fast across the finish line, making contact with his rival.
"I was so on fire trying to get through the round that I just never lifted and there he was," said Aasbo. "It was my mistake and I'm just glad it didn't cost James his day."
Damage to Deane's car was minimal, while Aasbo's crew faced an entire corner change in the series-allocated five minutes. The team was able to return the car to competition and the incident didn't affect scoring, but it put Aasbo on the back-foot and he did not advance. Deane went on to earn second place in the event. 
During the series' livestream broadcast, a lengthy feature on the accomplishments of the championship Papadakis Racing team proved prescient. "Being on a race team, running a race team, or being a driver for a race team delivers this huge range of emotions from the ultimate highs of winning to the lows of losing," Papadakis told Formula Drift cameras. "I think that's what's so great about motorsport. It always keeps you on your toes."
The Formula Drift livestream is one of the most watched in the world, with the series achieving 2.7 million or more livestream and content views for each round so far in 2019.
With three stops remaining on the championship calendar, the pack of drivers contending for the title remains close. Aasbo leads the standings with 328, just two points ahead of Aurimas "Odi" Bakchis. A win in Seattle by Piotr Wiecek vaulted him into the mix and he is a close third, trailed by his teammate Deane in fourth; Forsberg is fifth. Only 26 points separate the top five drivers and, between them, they have won seven championship titles -- including Aasbo's victory in 2015.
Toyota is at the top of the Auto Cup ranking for manufacturers, while Nexen sits second in the Tire Cup.
Drifting is a high-skill, high-powered motorsport with an emphasis on car control. In the Formula Drift series, drivers compete in knockout heats on a closed course, sliding sideways in trials judged on speed and style. With origins in Japan, it is one of the fastest growing forms of motorsport in the world.
---