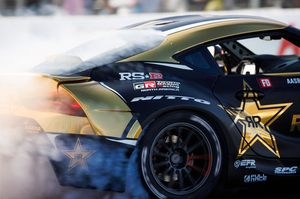 Fredric Aasbo scores first Formula Drift podium of 2023
LONG BEACH, California (April 9, 2023) – The Papadakis Racing Toyotas put on a strong season opening performance in Long Beach this weekend, with defending champ Fredric Aasbo scoring third place in the Rockstar Energy Drink Toyota GR Supra and teammate Ryan Tuerck achieving a top qualifying result in the Rain-X / Nitto Tire Toyota GR Corolla.
"The fan energy at Long Beach this year was unreal," said Aasbo after stepping off the podium on Saturday. "To see the grandstands packed tight and to get to meet so many new fans in the pits this weekend was fantastic. It's hard not to have a smile on your face after that. And the trophy was the icing on the cake."
The 20th anniversary season of Formula Drift launched with capacity crowds and close competition as a stacked field assembled to take on the notoriously challenging Streets of Long Beach course. The event sold out both Friday and Saturday and saw huge numbers of livestream tune-ins.
In qualifying on Friday, Ryan Tuerck established himself as the driver to beat. He delivered a near-perfect 98-point score as he threaded the Rain-X / Nitto Tire Toyota Corolla sideways between the intimidating track walls of the Grand Prix course's Turns 9, 10 and 11 at 90-plus miles per hour. He looked on track to repeat his perfect weekend of 2022 when he and rival Jonathan Hurst made contact on the last corner of the Round of 8. In a split decision, judges deemed Tuerck at fault, and he had to settle for fifth place overall.
"It was great to get out there and rip on the Long Beach course and putting together that huge run on Friday reminded all of us what we're capable of this season," said Tuerck. "The 20th anniversary season of Formula Drift is going to be the best one yet."
Three-time defending champion Aasbo faced down an impressive list of challengers en route to his first podium of 2023. Among them was rival James Deane, who has returned to the series after a hiatus. One of two other three-time champions in the field, Deane is expected to be a key player in the championship chase this year. The two squared off in Top 8 competition and it was Aasbo who advanced to the Final Four to meet Matt Field.
Field and Aasbo have history at Long Beach and this year's match-up drew similar controversy to last year's Final Four battle between the two. Initially, it looked like a simple call for Aasbo after Field spun out from the chase position. But judges reviewing telemetry from their new suite of onboard data tools declared Aasbo's crowd-pleasing wall tap excessive and stopped Aasbo's run at third place, advancing Field to the Final.
"Judging has to be the hardest job in drifting," said team owner Stephan Papadakis. "They have to make close calls all weekend and certainly we saw a few tough ones at Long Beach."
Even so, it was a solid start to the 20th anniversary Formula Drift season for both Aasbo and Tuerck. Last season, the teammates achieved seven podium results in eight rounds of competition, with Tuerck winning the season opener in Long Beach, Aasbo topping the podium at Round 2 in Atlanta and again at the Irwindale finale. Aasbo closed out 2022 with his third driver's title and the team celebrated a Manufacturer's Cup victory for Toyota and a win for Nitto Tire in the Tire Cup.
Up next for Formula Drift is Round 2 at Road Atlanta May 11-13 – a favorite stop for both Papadakis Racing drivers. The road course is unique in the series for elevation changes that require drivers to deliver a combination of finesse and aggression and weather is typically unpredictable this time of year.
The Papadakis Racing team began drifting in 2004 and is the most winning team in Formula Drift history, earning the 2022, 2021 and 2015 titles with driver Fredric Aasbo, as well as back-to-back championships with driver Tanner Foust in 2008 and 2007. Partner Toyota has won the manufacturer's cup eight times since 2014. Tuerck joined the Papadakis Racing team in 2020 in a Toyota Corolla Hatchback and has shown strong results, bringing home the third-place championship trophy twice in the past three seasons.
Fans can follow the action for Tuerck, Aasbo, and the whole Papadakis Racing team by tuning in to the Rockstar Energy YouTube series "Controlled Chaos," which takes fans behind the scenes all season. Binge watch the 2022 season now on YouTube at https://www.youtube.com/rockstarenergy and subscribe to be notified as this year's content drops.
Drifting is a high-skill, high-powered motorsport with an emphasis on car control. In the Formula Drift series, drivers compete in knockout heats on a closed course, sliding sideways in trials judged on speed and style. With origins in Japan, the sport has rapidly grown to one of the most popular youth-oriented motorsports in the world. Here in the United States, Formula Drift officially launched in 2004 and its national schedule of eight events routinely host capacity crowds, while live-streamed multi-platform broadcasts attract millions of online viewers.
---