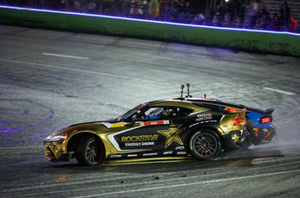 Fredric Aasbo takes third in rainy Orlando
ORLANDO, Florida (May 22, 2022) – Rockstar Energy driver Fredric Aasbo extended the Papadakis Racing Toyota team podium streak to Round 3 with a third-place result at Orlando Speed World this weekend.
"Between the heat and the rain, the weather in Orlando was wild," said Aasbo. "We got a little bit of everything and I want to give a big thank you to the fans who braved all that weather to stay with us to the end of the night and to the Papadakis Racing crew, who had the setups I needed for every condition."
The defending champion made a picture-perfect qualifying run in the Rockstar Energy Toyota GR Supra on Friday to take the No. 1 qualifying spot. In a rainy opening round on Saturday, he defeated local favorite Adam LZ -- who spun out in the wet conditions. Next, he advanced past Jeff Jones in the Top 16 before putting together one of the best chase runs of the weekend to win his match against Mike Essa in the Great 8. 
"Mike and I were high fiving each other after that one," said Aasbo. "There is no better feeling than when everything comes together and you both show what you can do."
Aasbo's weekend ended in the Final 4 when he met Chris Forsberg for a battle of champions. Between them, the two have five Formula Drift titles and they last met in the finals in Atlanta. But this time it was Forsberg who advanced, leaving Top Qualifier Aasbo to settle for third place.
With three of eight rounds complete, Aasbo leads the driver's points standings and Toyota is on top of the manufacturer leaderboard. Tire partner Nitto leads the Tire Cup. Aasbo won the Atlanta round earlier this month, while Papadakis Racing Toyota teammate Ryan Tuerck won the April season opener in Long Beach.
In Orlando, Tuerck qualified his Rain-X/Nitto Tire Toyota GR Corolla into the top half of the field to find himself in a challenging corner of the competition bracket. He defeated Ola Jaeger in the opening round to advance to a Top 16 battle against fellow championship favorite Chelsea DeNofa. The team sent Tuerck into battle with an aggressive setup that included low tire pressures for maximum grip. Unfortunately, the strategy didn't pay off and Tuerck debeaded a tire and was unable to advance.
"When you have a battle like that where both drivers are championship contenders and both cars are capable of taking the win, you have to take risks," said team owner Stephan Papadakis. "Even though it didn't work out for us this time, it was the right move: you don't win championships by playing it safe."
Papadakis Racing will be back on track and pushing to keep up the momentum at Round 4 in New Jersey when they take on the purpose-built Formula Drift track at Englishtown Raceway Park June 10-11.
The Papadakis Racing team began drifting in 2004 and is the most winning team in Formula Drift history, earning the 2021 and 2015 titles with driver Fredric Aasbo, as well as back-to-back championships with driver Tanner Foust in 2007 and 2008. Tuerck joined Papadakis Racing in 2020 and has shown strong results, bringing home a third-place championship trophy in his debut season with the team and sixth overall in 2021. Partner Toyota has won the manufacturer's cup seven times since 2014.
Drifting is a high-skill, high-powered motorsport with an emphasis on car control. In the Formula Drift series, drivers compete in knockout heats on a closed course, sliding sideways in trials judged on speed and style. With origins in Japan, the sport has rapidly grown to one of the most popular youth-oriented motorsports in the world. Here in the United States, Formula Drift officially launched in 2004 and its national schedule of eight events routinely host capacity crowds, while live-streamed multi-platform broadcasts attract millions of online viewers.
---