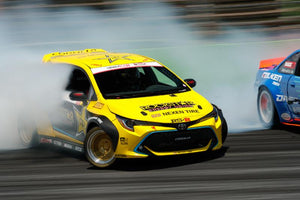 Fredric Aasbo third in Orlando
ORLANDO, Florida (April 29, 2018) - This weekend saw another podium finish for Fredric Aasbo as he snagged the top qualifying position and advanced through the Formula Drift competition ladder to score third place in the brand new Rockstar Energy Drink / Nexen Tire Toyota Corolla Hatchback.
"To debut a new car with back-to-back podium finishes is incredible," said Aasbo following the Round 2 champagne ceremony in Orlando, Florida. "These results say a lot about the whole team and are a credit to the fantastic support we get from Rockstar Energy Drink, Toyota, and Nexen Tire."
The driver crushed qualifying on Friday, earning a 97 on his first run and topping the leaderboard with a 99 on his second. The score earned him a bye into the Top 16, where he advanced cleanly past rookie Matt Vankirk and closed proximity on Ken Gushi in the Great 8 to move into the Final 4.
There, he lined up against multi-time champion Chris Forsberg in a battle of titans. Aasbo drove a strong lead run but lost ground on the chase. The battle was one of the narrowest of the event and judges deemed the result too close to call, setting up a One-More-Time battle.
"I knew Chris would do well when I saw he was coming back onto Nexen tires this year," said Aasbo. "He's really able to make the most of the power and I had a hard time chasing him down. He was on rails all day."
The Orlando Speed World track configuration started with steep banking before drivers dropped down through a rough transition onto an infield flat. In the One-More-Time re-run, Aasbo lost ground to his rival through the transition and locked in a third place result.
Aasbo opened the season last month with a win in Long Beach, California. The pair of strong performances from the brand-new vehicle is a remarkable achievement for the Papadakis Racing team. 
"I really can't think of a better way to start the season than with back-to-back podium results," said team owner Stephan Papadakis. "We know we have huge untapped potential in this Rockstar Energy Drink / Nexen Tire Toyota Corolla Hatchback and it's already proven super-strong in competition. Now it's just down to setup changes for our next event."
The next event is approaching fast. The series moves to Road Atlanta in Braselton, Georgia, for Round 3 in just two weeks' time (May 11-12). Although Aasbo is the most winning driver in Formula Drift history, with 11 career victories, he is still looking for his first win at the challenging Road Atlanta track. His best career finish there came in 2014, when he earned a second-place result.
---