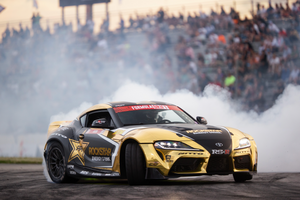 Fredric Aasbo third in wet Englishtown event
ENGLISHTOWN, NJ (June 20, 2021) – Fredric Aasbo drove the Rockstar Energy Toyota GR Supra to third place on Saturday in wet weather conditions at Englishtown's Old Bridge Township Raceway. On the strength of back-to-back podiums, Aasbo is now third in the points standings with five rounds to go in the 2021 Formula Drift Championship.
"In wet conditions like that it just comes down to keeping your cool," said Aasbo. "Obviously you're dealing with less grip when it rains, but there is also huge variability with inconsistent grip levels through the different corners. Managing that is how you make your way through the rounds."
Aasbo narrowly edged out his Papadakis Racing teammate Ryan Tuerck in the Gumout/Nitto Tire Toyota Corolla Hatchback for third place. Both advanced through the competition ladder into the Final 4, but Aasbo's higher qualifying score secured the podium. Tuerck finished fourth.
It was a challenging day of competition under mixed conditions. After optimizing dry setups during practice and qualifying, the rain arrived just in time for Saturday's opening round of tandem competition. Aasbo's podium success came in part to his crew's quick move to change the transmission in the Rockstar Energy Toyota GR Supra. After Aasbo won his Top 32 round against Josh Reynolds, the Papadakis Racing crew made the swap.
"Nobody had faced the Englishtown Figure 8 in the wet before but we know wet tracks and we realized after that first battle we could make a change to keep the wheel speed up," said Papadakis. "Full kudos to the guys: they're so good at working on this car that they can turn it around between rounds."
The gamble paid off. Aasbo advanced past Dylan Hughes in the Top 16 and Travis Reeder in the Great 8. In the Final 4, his battle against Chris Forsberg went to a one-more-time rematch, where he secured third place.
For his part, Tuerck advanced past Taylor Hull in the Top 32, then faced down Simen Olsen in the Top 16. As conditions began to dry for the Great 8, he battled past Chelsea DeNofa and then locked in fourth place after a one-more-time battle against Matt Field.
It was the series' first run on the  brand new drift course at Old Bridge Township Raceway. The facility has upgraded the traditional drag racing area to create the first purpose-built drift stadium in the USA. The compact figure-eight course delivered fantastic 360-degree views for the sizeable crowd that turned out to enjoy the action.
Although the course is all new, the venue is an old favorite for the drift community. For Tuerck, competing this weekend at E-Town felt like a homecoming. "It's unbelievable to come full circle and bring it back to Englishtown where I ran some of my first events out in the lot here," said Tuerck. "It is amazing to be back here now with the pro series on a purpose-built stadium in front of all these fans."
Aasbo and Tuerck celebrated another success this weekend: the release of Toyota video "The Pitch," which debuted on Friday. The online piece delivers high-action stunt work in a tongue-in-cheek look at an advertising pitch meeting. Aasbo and Tuerck both performed stunts for the short film where Toyota GR Supras make a 100-foot jump and race through a downtown LA drift sequence. Aasbo also plays a pizza driver, while his wife, competitive drift newcomer Hunter Taylor, makes an epic grocery run. The video is available on Toyota USA's YouTube channel at https://www.youtube.com/watch?v=Nvedr1AeQt8&t=57s.
The team hopes to continue the momentum next month as the series visits another new track Lake Erie Speedway in Erie, Pennsylvania, July 9-10.
The 2020 season saw Aasbo and Tuerck score a combined seven podiums in eight rounds of competition – including three outright wins. The Papadakis Racing team began drifting in 2004 and is the most winning team in Formula Drift history, earning the 2015 title with driver Fredric Aasbo, as well as back-to-back championship titles with driver Tanner Foust in 2007 and 2008.
---