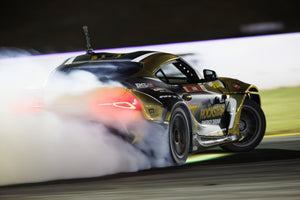 Fredric Aasbo wins Formula Drift Atlanta in Rockstar Energy Toyota GR Supra
BRASELTON, Georgia (May 9, 2022) – Defending champion Fredric Aasbo won Formula Drift Atlanta in the Rockstar Energy Toyota GR Supra on Saturday, making it two for two this season for the Papadakis Racing Toyota team. Aasbo now leads the points standings while teammate Ryan Tuerck is third in the Rain-X/Nitto Tire Toyota GR Corolla.
"These guys are on form," said Aasbo Sunday. "We have to bring our A-game to every single match. Big props to my team for getting us to the top of the podium and to all the fans here for bringing so much enthusiasm to motivate us all."
Aasbo qualified third on Friday to line up in a challenging corner of the Formula Drift elimination bracket. After overcoming Brazilian driver Joao Barion in the opening round, he faced down veteran Justin 'JTP' Pawlak and then met teammate Ryan Tuerck in the quarterfinal round.
Tuerck won the Long Beach series opener in his Rain-X/Nitto Tire Toyota GR Corolla a month ago and had a strong start to the weekend in Atlanta, qualifying fifth. The Papadakis Racing Toyota teammates are well matched and both say the Road Atlanta track is their favorite to drive. But their battle fell short when Tuerck reported transmission trouble and Aasbo advanced.
In the final four, Aasbo faced down championship favorite Aurimas 'Odi' Bakchis and then went on to a highlight battle against three-time champion Chris Forsberg.
With five championship titles between them, drivers Forsberg and Aasbo have a long history of close competition and a similar tactical style. Judges declared their first head-to-head match too close to call, with Forsberg putting in a tidy performance that didn't deliver the proximity of Aasbo's run.
But Aasbo delivered a clear victory in the rematch to take the event win. As the pressure mounted, Aasbo repeated his aggressive drive while Forsberg made a big error, putting all four wheels off track.
"This was a weekend where we saw just how incredibly stacked the field is this season in Formula Drift," said team owner Stephan Papadakis. "The speed and proximity these drivers are delivering means there are no 'easy' rounds. Every driver out there is capable of winning and it feels great to bring home two wins in a row."
The weekend event was packed with fans who turned up early in the morning hours to secure the best views from the grassy lawns flanking the Road Atlanta drift track. Online, live streamed competition was a huge draw.
It is now a quick turnaround for Papadakis Racing to make the next stop on the calendar in just under two weeks. Teams will travel to Florida to take on their first oval of 2022 at Orlando Speed World May 20-21.
The Papadakis Racing team began drifting in 2004 and is the most winning team in Formula Drift history, earning the 2021 and 2015 titles with driver Fredric Aasbo, as well as back-to-back championships with driver Tanner Foust in 2007 and 2008. Tuerck joined Papadakis Racing in 2020 and has shown strong results, bringing home a third-place championship trophy in his debut season with the team and sixth overall in 2021. Partner Toyota has won the manufacturer's cup seven times since 2014.
Drifting is a high-skill, high-powered motorsport with an emphasis on car control. In the Formula Drift series, drivers compete in knockout heats on a closed course, sliding sideways in trials judged on speed and style. With origins in Japan, the sport has rapidly grown to one of the most popular youth-oriented motorsports in the world. Here in the United States, Formula Drift officially launched in 2004 and its national schedule of eight events routinely host capacity crowds, while live-streamed multi-platform broadcasts attract millions of online viewers.
---