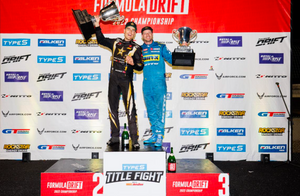 Fredric Aasbo wins third Formula Drift driver's title
IRWINDALE, California (October 16, 2022) – The Papadakis Racing Toyota team earned a one-two finish at the Irwindale Speedway season finale to lock in the 2022 Formula Drift Championship title for Fredric Aasbo in the Rockstar Energy Toyota GR Supra and third in the points for Ryan Tuerck in the Rain-X / Nitto Tire Toyota GR Corolla. The team also celebrated a Manufacturer's Cup victory for Toyota and a win for Nitto Tire in the Tire Cup.
"It takes an enormous team effort to win a championship title and I'm proud of our work this season," said Aasbo. "It's been up and down, for sure, but it's the support of the team and our friends and family that gets us through. We have the whole family here tonight, with Rockstar, with Angus Cloud, with Toyota and Nitto: I love you guys! Thank you so much."
Aasbo ran a perfect weekend, earning the top spot on Friday's qualifying ladder and a critical three points to enter Saturday's main event just 11 points off the lead. To win the title, Aasbo needed to finish one competition round ahead of rival Matt Field.
The pressure was on as a downpour swept through the area immediately before competition began, putting Aasbo in the difficult position of being first to test the wet track in the Round of 16. A sighting lap revealed patchy grip and puddles of standing water.
"It's the worst conditions I've ever been in: if you're up high on the bank, it's ice, and If you're down a little bit lower there's more grip than there was earlier tonight," said Aasbo on Saturday. "It's extremely treacherous and I did not keep cool at all. It was only by the slimmest of margins that I was able to save the car from spinning."
He and the team opted to take a conservative strategy and run a lower line. It was a controversial choice that paid off when championship leader Matt Field crashed out of the competition with a spin on the slick high line and opened the door for Aasbo to win the 2022 crown.
Aasbo's top 16 opponent Kyle Mohan also got caught out in the slick conditions and Aasbo advanced to the Great 8 to lock in his third career Formula Drift title. The Rockstar Energy Toyota GR Supra driver joins an elite pair to have earned three titles in the series. Chris Forsberg and James Deane have also earned three championships each. "That's a pretty cool club to be a part of," said Aasbo.
With the championship title secure in the Round of 16, the night became a victory run for Aasbo, who climbed the competition ladder to defeat Aurimas "Odi" Bakchis, then Adam LZ, and join his Papadakis Racing Toyota teammate Tuerck in the Finals.
Tuerck qualified seventh on Friday and advanced past Alec Robbins in the Top 16 to vault from fifth to third in the championship points standings. Then, he won a one-more-time match-up with young gun Branden Sorensen in the Great 8 and faced down Jeff Jones in the Final 4.
From there, it was a guaranteed Papadakis Racing Toyota team 1-2 result as teammates squared off at the House of Drift. Aasbo took the event win to cap his championship winning season, while Tuerck earned second and locked in third place in the driver's championship.
"The boys have been working so hard this year. I've had the absolute best set up car this entire season and I feel like I've done some of my best driving of my career," said Tuerck. "To have everything pay off with a trophy feels great and I'm already looking forward, knowing everything going into next year is going to be awesome."
Between them, teammates Aasbo and Tuerck achieved seven podium results in eight rounds of competition, with Tuerck winning the season opener in Long Beach and Aasbo topping the podium at Round 2 in Atlanta and again at the Irwindale finale.
"It's thanks to our partners including Toyota, Rockstar and Nitto Tires that we have two of the very best drivers and cars in an extremely competitive field," said team owner Stephan Papadakis after the race. "We couldn't be happier to see the stars align to bring us a 1-2 result, and first and third in the championship. It's a dream scenario."
Fans can catch up on the full season of action for Tuerck and Aasbo by tuning in to weekly episodes of the Rockstar Energy YouTube series "Controlled Chaos." Each week
at https://www.youtube.com/rockstarenergy, Rockstar Energy brings fans behind the scenes with the Papadakis Racing team to showcase the highs and lows of competition weekends.
The Papadakis Racing team began drifting in 2004 and is the most winning team in Formula Drift history, earning five titles. The team won the 2022, 2021 and 2015 titles with driver Fredric Aasbo, and went back-to- back with driver Tanner Foust in 2008 and 2007. Tuerck joined Papadakis Racing in 2020 and has shown strong results, bringing home a pair of third-place championship trophies in 2022 and 2020. Longtime partner Toyota has now won the manufacturer's cup eight times since 2014.
Drifting is a high-skill, high-powered motorsport with an emphasis on car control. In the Formula Drift series, drivers compete in knockout heats on a closed course, sliding sideways in trials judged on speed and style. With origins in Japan, the sport has rapidly grown to one of the most popular youth-oriented motorsports in the world. Here in the United States, Formula Drift officially launched in 2004 and its national schedule of eight events routinely host capacity crowds, while live-streamed multi-platform broadcasts attract millions of online viewers.
---