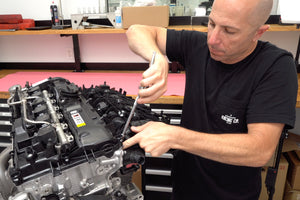 New YouTube series reveals secrets of a master engine builder
CARSON, CA (August 13, 2019) - Legendary builder Stephan Papadakis today embarks on a four-part YouTube series revealing for the first time what it takes to modify an all-new 2020 Toyota GR Supra engine into a 1,000 horsepower monster.
"We've set this target of 1,000 horsepower but this engine is all new to me and I honestly don't know how I'm going to get there," said Papadakis. "It's exciting: I live for the challenge of exploring the unknown and pushing toward a goal."
 From first looks under the engine cover to the engine dyno reveal, this four-part episodic digital series lifts the veil on the often secretive world of the sport compact scene and takes viewers into the process of building on the leading edge.
In the debut episode, watch as Papadakis and his team tear into a brand new, 500-mile Supra at their Southern California shop, pulling the engine and disassembling it piece by piece, and learning as they go.
"It's always a bit nerve wracking to get into an engine for the first time. You don't know what pitfalls or obstacles you might find -- and I found a couple with this one," said Papadakis.
The much-anticipated launch of the new Supra brings with it an opportunity for the aftermarket: the brand new B58 engine follows the beloved 2JZ model from the previous generation Supra. First introduced in the 1990s the 2JZ engine enjoyed more than 20 years of production. It is a favorite of the aftermarket, with many tuners and racers still modifying it today for high-performance builds.
The 2020 Toyota GR Supra engine is all new. Unlike the familiar 2JZ, there are no aftermarket kits or instructions available yet. It will take resourcefulness, experimentation, and a community of builders to make it happen. Papadakis must push performance limits to triple the power and, in upcoming episodes, viewers are invited to follow the journey as he develops and manufactures specialized parts designed to boost the power output, assembles the new motor and, finally, takes it to an engine dyno to test his results.
Subscribe to PapadakisRacing on YouTube to be notified as the project unfolds and new episodes are released.
Papadakis is a legend of sport-compact racing. His winning vehicles defy expectations and lead industry trends. He established his reputation as an innovator in the 1990s with the first front-wheel-drive, tube-chassis drag car in the U.S. His team earned multiple records and championships, turning in elapsed times and trap speeds previously thought unattainable in front-drive drag cars.
Since moving to Formula Drift in 2004, Papadakis' winning vehicles include the landmark V8-powered Scion tC, and the current 1,000-horsepower, 4-cylinder rear-wheel-drive converted Toyota Corolla Hatchback -- which won its first outing in 2018 and is currently leading the points in the Formula Drift Championship. Two of his competition builds have been displayed in Los Angeles' Petersen Museum.
On YouTube, Papadakis has found a strong audience for his regular content uploads focusing on the technical side of racing and vehicle performance. The channel crossed a significant milestone earlier this year, passing the 100,000 subscriber mark. This four-part video series is a production of Red Team LA in collaboration with Papadakis Racing.
---