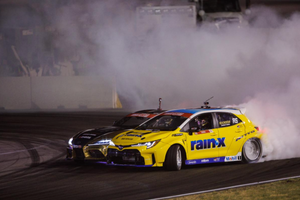 Papadakis Racing drivers second and third in points
ST. LOUIS, Missouri (July 18, 2022) – Papadakis Racing Toyota drivers Fredric Aasbo and Ryan Tuerck are challenging for the Formula Drift points lead after a rough Round 5 at World Wide Technology Raceway. Tuerck prevailed over a tough track and multiple contact incidents to come away with a second-place podium result and is now third in the championship standings, behind Aasbo.
A new St. Louis course layout this weekend proved difficult for drivers navigate and a tricky outer zone heading into the finish line was the decider for many competitors on Saturday – including the Papadakis Racing teammates.
The weekend would prove challenging from the outset for Tuerck and Aasbo. Uneven weather conditions during qualifying shook up the competition ladder and positioned the teammates to face each other in the second round of knockout battles.
"On the one hand, a bracket like that means the team is definitely going to advance past that round," said team owner Stephan Papadakis. "But the flip side of that is that somebody has to go home early, too."
But to even get to the Top 16 to face each other, the teammates had to get past the opening round. Two-time champion Aasbo defeated series contender Chelsea DeNofa, who spun off track, while Tuerck earned his Top 16 position by defeating Brazilian Joao Barion.
Aasbo and Tuerck are well matched, driving similarly competitive Toyota GR vehicles on Nitto Tires. And the duo looked set to have a fantastic battle until Aasbo's Rockstar Energy Toyota GR Supra nudged the Rain-X / Nitto Tire Toyota GR Corolla, sending him offline. With Aasbo deemed at fault for the contact, Tuerck played it smart for the second half of the match and won the round.
Tuerck also took a hit in hit next battle when he and rival Dylan Hughes collided. Judges deemed Hughes at fault and then he sealed his own fate in the second half of the match when he spun out. Tuerck advanced.
An all-Toyota Final 4 battle saw Tuerck face Ken Gushi in his new Toyota GR 86. Tuerck put the pressure on and Gushi spun out from the lead position to give Tuerck round.
In the Final against Kazuya Taguchi, it was Tuerck who made a mistake, colliding with his opponent on the tricky final corner. With Tuerck deemed at fault for the crash, Taguchi earned his first-ever victory in Formula Drift.
Even as he claimed his second-place trophy, Tuerck apologized to fans at the end of the night, saying: "I'm sorry to the fans for not making it a solid finals battle. The team did awesome this weekend and the car was phenomenal. I was just a little offbeat on that last battle. "Heading into the next three rounds, our goal is to stay on the podium and that's what we'll work for," he said.
When the dust settled, Matt Field had extended his championship lead to 35 points over second place Aasbo, and Tuerck moved up a spot to third – just three points behind his teammate.
There has been a different winner in each of the first five rounds of competition this season, with Tuerck and Aasbo claiming a win apiece in the first two stops of the year. Toyota leads the Manufacturer's Cup, while partner Nitto is second and within striking distance of the Tire Cup. With three rounds of competition to go in the championship, both Papadakis Racing Toyota drivers have the title very much in their sights.
Formula Drift competition resumes August 5 and 6 in Monroe, Washington, for Round 6.
The Papadakis Racing team began drifting in 2004 and is the most winning team in Formula Drift history, earning the 2021 and 2015 titles with driver Fredric Aasbo, as well as back-to-back championships with driver Tanner Foust in 2007 and 2008. Tuerck joined Papadakis Racing in 2020 and has shown strong results, bringing home a third-place championship trophy in his debut season with the team and sixth overall in 2021. Partner Toyota has won the manufacturer's cup seven times since 2014.
Drifting is a high-skill, high-powered motorsport with an emphasis on car control. In the Formula Drift series, drivers compete in knockout heats on a closed course, sliding sideways in trials judged on speed and style. With origins in Japan, the sport has rapidly grown to one of the most popular youth-oriented motorsports in the world. Here in the United States, Formula Drift officially launched in 2004 and its national schedule of eight events routinely host capacity crowds, while live-streamed multi-platform broadcasts attract millions of online viewers.
---