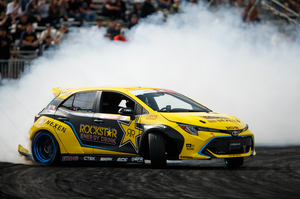 Papadakis Racing heads to Orlando for Round 2
CARSON, California (April 24, 2019) -- Papadakis Racing is headed east to the Sunshine State for Round 2 of the 2019 Formula Drift championship at Orlando Speed World this weekend. Driver Fredric Aasbo says he's excited to return to the track that saw him put down a near-perfect 99 qualifying score last year.
"Orlando is one of the tracks that has taught me how to love a challenge: it's a place where I've had one of my career best performances and one of my worst disappointments," said Aasbo, who scored the top qualifying spot and celebrated a third-place podium result there last year, but still recalls the sting of a first-round elimination in Orlando during his championship winning 2015 season.
The tricky track features steep banking and a rough transition onto an infield flat. Managing these bumps driving sideways at speed, door-to-door with a rival, separates the field as the best advance through the knockout competition. Forecasters are calling for rain on Friday, which could introduce the challenge of mixed surfaces to the qualifying session.
Aasbo and the Rockstar Energy Drink / Nexen Tire Toyota Corolla Hatchback earned a fourth-place result to start the season on the Streets of Long Beach earlier this month. 
The team had been looking good for their first podium of 2019 until an engine failure in the Final 4 knocked them out of competition. 
Team owner Stephan Papadakis detailed the post-race diagnostics process on a recent video posted to the team's YouTube channel at www.YouTube.com/PapadakisRacing and says he is confident that the car is competition ready for Orlando.
"We are committed to sharing the whole story," said Papadakis. "We know it's unusual for a race team to be so transparent but we invite our fans into our real experience so that we can hopefully inspire them to get out there and chase their own dreams."
The channel has found a strong audience for accessible content focused on the technical side of vehicle performance and recently passed the 100,000 subscriber mark. 
Drifting is a high-skill, high-powered motorsport with an emphasis on car control. In the Formula Drift series, drivers compete in knockout heats on a closed course, sliding sideways in trials judged on speed and style. With origins in Japan, it is one of the fastest growing forms of motorsport in the world.
---