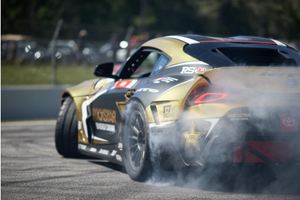 Papadakis Racing opens FD season at Road Atlanta
BRASELTON, Georgia (May 9, 2021) – The Papadakis Racing duo of Fredric Aasbo and Ryan Tuerck got the 2021 Formula Drift championship started this weekend at Road Atlanta, showcasing their potential with a pair of top qualifying runs and a strong showing in the opening round.
The team was favored for a top result at Road Atlanta. Aasbo and Tuerck count this track as among their favorites and in 2019, the last time the series ran in Atlanta, they finished one-two.
Under a new qualifying format that saw leading drivers take a single run to establish their starting position, Aasbo brought the Rockstar Energy Toyota GR Supra into second place while Tuerck scored a solid fifth in the Gumout / Nitto Tire / Mobil 1 Toyota Corolla Hatchback.
The Top 32 round saw an exciting all-Supra, all-Norwegian battle for Aasbo as he took the win to advance over series newcomer Simen Olsen. Tuerck battled Kyle Mohan and also moved ahead to the Top 16.
There, the tides turned. Tuerck dropped three wheels off course on his lead run against Swiss newcomer Yves Meyer and was scored a zero, putting him at a disadvantage as the drivers swapped lead and chase positions for their rematch. He made a good effort but Meyer put down a clean run and advanced.
Aasbo looked strong in his battle with Jeff Jones, putting down a flawless lead run. But in the chase, a component in his rear right suspension broke under cornering and he was forced to correct. Although he continued with a compelling chase that had fans calling for a one-more-time battle, Jones was declared the winner.
"There is no other track like this in the series and we learned something new about our suspension setup this weekend," said team owner Stephan Papadakis. "We're confident in the championship winning capability of this car and tire combination. We'll make some adjustments before Orlando in two weeks and will be ready to come back strong."
The 2020 season saw the Papadakis Racing team score a combined seven podiums in eight rounds of competition – including three outright wins. "We're finding more and more performance in the Supra and I'm excited about this season," said Aasbo. "I can't wait to get out there in Orlando."
For the 2021 season, Formula Drift is set to run a full schedule of eight event weekends at a mix of new and old venues across the country. All eight rounds this year will see a full fan experience, with the series welcoming fans back to every stop. Despite the early knockout in Atlanta, Tuerck is also positive about the season ahead.
"Fredric and I both had the car and tire combination to meet in the finals and I'm disappointed to be out so soon," said Tuerck. "The car feels better than ever. The setup is great and it's the most comfortable I've ever been in it. It's a long season and we will come back from this."
After a year of limited fan attendance, the Atlanta round saw a return to the series' typically packed grandstands and autograph sessions. Aasbo also joined the Pasmag Tuning 365 show as a guest judge. Up next for the team is a trip to Florida in two weeks, as the series returns to Orlando Speed World for Round 2.
The Papadakis Racing team began drifting in 2004 and is the most winning team in Formula Drift history, earning the 2015 title with driver Fredric Aasbo, as well as back-to-back championship titles with driver Tanner Foust in 2007 and 2008.
---