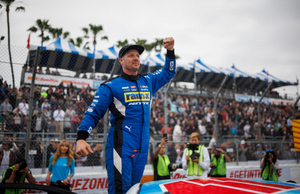 Papadakis Racing scores first-ever win for Toyota GR Corolla
LOS ANGELES, California (April 4, 2022) – Just two days after the official unveiling of the Toyota GR Corolla, Ryan Tuerck scored its first-ever win. He topped the podium in the Rain-X/Nitto Tire Toyota GR Corolla at the 2022 season opening Formula Drift Long Beach round. Teammate Fredric Aasbo made a good start on defending his 2021 championship title and heads into Round 2 tied for third in the points in his Rockstar Energy Drink Toyota GR Supra.
It was a whirlwind weekend for Papadakis Racing, which joined Toyota for its official GR Corolla unveiling Thursday night and saw sponsor Rockstar Energy Drink join the Formula Drift series as an official partner.
"To be a part of a global reveal of such an incredible new car for Toyota was a dream come true for me," said Tuerck, who also helped give the Toyota GR Corolla a special welcome to Formula Drift on Saturday. He drove his competition car in smoky donuts around an all-new Toyota GR Four carrying special passenger Naoyuki Sakamoto, the car's chief engineer.
Tuerck achieved a rare perfect weekend in the Rain-X/Nitto Tire Toyota GR Corolla, taking the No. 1 qualifying spot on Friday before running the competition ladder all the way to the top on Saturday.
After advancing past Jeff Jones in the Round of 32, he then faced down promising young driver Branden Sorensen, before battling past longtime friend and rival Chris Forsberg. He next advanced past Aurimas "Odi" Bakchis in the Final 4, setting the stage for an exciting final battle against either veteran Matt Field or teammate Aasbo. But an unusual turn of events meant that match never materialized. Aasbo made contact with Field, who spun into the wall. Judges deemed Aasbo at fault and awarded Tuerck the event victory when Field was unable to bring his car to the line.
Tuerck had been fast and consistent throughout the event, rarely putting a wheel wrong from qualifying through his last battle. He said afterwards that his newborn son was never far from his mind. His first child, son Roman Casey Tuerck, was born just two weeks ago.
"Becoming a dad is all the motivation I needed coming into this weekend," said an emotional Tuerck after the podium. "I got to drive to my absolute potential and stay focused and do it for my new family."
Teammate Aasbo, the defending series champion, looked strong in the Rockstar Energy Toyota GR Supra. He qualified seventh and defeated fellow Norwegian Simen Olsen in the opening round. He then met Jhonnattan Castro for a highlight battle as the GR Supra faced the all-new Toyota GR86. The two drivers put down nearly identical runs, leaving the judges to call for a One-More-Time rematch. A technical issue emerged with Castro's new build and Aasbo took the round. He next faced Chelsea DeNofa before meeting Matt Field for a heated battle in the Final 4.
While pushing hard in the chase position, Aasbo got too close to his opponent in the first corner and the two made contact. Field hit the wall and judges deemed Aasbo at fault. Afterward, Aasbo's disappointment was clear.
"I thought Field would be faster. I needed to stay with him and so I was very close – too close – and that was my mistake," said Aasbo. "I feel really bad about it, not only for mangling Matt's car, but also for losing that battle."
Team owner Stephan Papadakis, who has been with the series from its early days in 2004, was philosophical about the incident.
"It's a delicate balance because when you're rubbing bumpers, you're a hero. A few more inches and it all goes wrong," said Papadakis, who leads the series' most winning team in history. "But at the level these drivers are competing, you have to commit and go for it every round."
The weekend event was sold out, with fans packing into trackside grandstands and enjoying the series' generous fan access, with an open paddock where they are able to get close to the drivers and cars. Online, live streamed competition was a huge draw.
It has been a busy off-season for the Papadakis Racing squad, with the team taking a trip to Chicago for the filming of Toyota's latest action clip, "The Focus Group," which dropped last week and features the Rockstar Energy GR Supra drifting stunt sequences through an abandoned mall.
The team drivers also recorded a series of videos for Toyota's new GR86 "Fasterclass" campaign, which showcases the stunt driving skills of the Formula Drift teammates and features a cameo from Papadakis.
For 2022, Formula Drift returns with a schedule of eight event weekends at a mix of new and returning venues across the country. Next on the calendar is the Road Atlanta stop May 6-7, which features elevation changes and high speed entries and is a favorite for both Aasbo and Tuerck.
The Papadakis Racing team began drifting in 2004 and is the most winning team in Formula Drift history, earning the 2021 and 2015 titles with driver Fredric Aasbo, as well as back-to-back championships with driver Tanner Foust in 2007 and 2008. Tuerck joined Papadakis Racing in 2020 and has shown strong results, bringing home a third-place championship trophy in his debut season with the team and sixth overall in 2021. Partner Toyota has won the manufacturer's cup seven times since 2014.
Drifting is a high-skill, high-powered motorsport with an emphasis on car control. In the Formula Drift series, drivers compete in knockout heats on a closed course, sliding sideways in trials judged on speed and style. With origins in Japan, the sport has rapidly grown to one of the most popular youth-oriented motorsports in the world. Here in the United States, Formula Drift officially launched in 2004 and its national schedule of eight events routinely host capacity crowds, while live-streamed multi-platform broadcasts attract millions of online viewers.
---