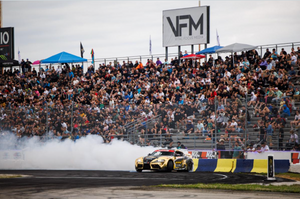 Papadakis Racing Toyotas in title hunt as season rounds mid-point
ENGLISHTOWN, New Jersey (June 14, 2022) – The Papadakis Racing Toyotas of Fredric Aasbo and Ryan Tuerck are in the fight as the Formula Drift season rounds its mid-point and title contenders begin to pull away from the rest of the field. This, despite a challenging weekend that saw a championship shakeup and a pair of newcomers on the top two steps of the podium.
Fredric Aasbo had a Top 8 exit in his Rockstar Energy Drink Toyota GR Supra. In opening round competition, Aasbo advanced past challenger Simen Olsen before a close fight with Aurimas "Odi" Bakchis in the top 16. His next battle was decided by inches when judges advanced Chelsea DeNofa for exhibiting a stronger line in the Round of 8.
"It was a close decision but a fair one," said Aasbo. "I heard a lot of people calling for a One More Time rerun but, watching that battle back, I know where I could have improved and you can bet I'll be digging for the best line in St. Louis."
Ryan Tuerck, meanwhile, suffered an enormous crash in his Top 16 run when a misstep by up-and-coming driver Brandon Sorensen crashed the Rain X / Nitto Tire Toyota GR Corolla into the wall.
It was a heavy hit and, with the chase driver deemed at fault, the crew was awarded 10 minutes to attempt to repair the damage. But the wreck was too severe, and Tuerck was unable to rejoin competition.
"I can't help but be disappointed that we couldn't continue to battle this weekend, but mistakes happen," said Tuerck. "There isn't a driver in FD that would do something like this intentionally."
To soften the blow of a tough weekend, a pair of first-time podium finishers played spoiler in the points as Travis Reeder scored the win and second place went to Rome Charpentier. That left Aasbo only four points out of the lead, and Tuerck fourth and still in the hunt for the title as the season enters its second half.
And at the top of the standings, both are among a pack of title contenders who are beginning to pull away from the rest of field.
"The season is long and this just shows how anything can happen in a weekend," said team owner Stephan Papadakis. "It's important for us to remain focused, avoid mistakes and keep pushing forward into the second half of the year."
Next, the team moves on to St. Louis July 15-16 before finally returning the cars to their Los Angeles based shop for a mid-season refresh ahead of the final two rounds.
The Papadakis Racing team began drifting in 2004 and is the most winning team in Formula Drift history, earning the 2021 and 2015 titles with driver Fredric Aasbo, as well as back-to-back championships with driver Tanner Foust in 2007 and 2008. Tuerck joined Papadakis Racing in 2020 and has shown strong results, bringing home a third-place championship trophy in his debut season with the team and sixth overall in 2021. Partner Toyota has won the manufacturer's cup seven times since 2014.
Drifting is a high-skill, high-powered motorsport with an emphasis on car control. In the Formula Drift series, drivers compete in knockout heats on a closed course, sliding sideways in trials judged on speed and style. With origins in Japan, the sport has rapidly grown to one of the most popular youth-oriented motorsports in the world. Here in the United States, Formula Drift officially launched in 2004 and its national schedule of eight events routinely host capacity crowds, while live-streamed multi-platform broadcasts attract millions of online viewers.
---