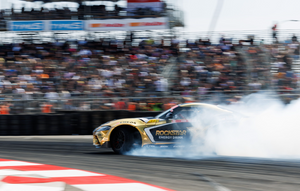 Papadakis Racing Toyotas return to Formula Drift for season opener
LONG BEACH, California (March 30, 2021) -- Defending Formula Drift champion Fredric Aasbo returns to competition with Papadakis Racing this weekend at the season opening Streets of Long Beach. He will drive the Rockstar Energy Toyota GR Supra alongside teammate Ryan Tuerck, who debuts an exciting new Rain-X partnership that is under wraps behind the car's dazzle camouflage until its official debut in competition on Friday.
Aasbo, who earned his second Formula Drift title in 2021, said he and the team are focused on the season ahead. "We had a fantastic season last year but we can't rest on our laurels," he said. "Now, it's back to the hustle of bringing the fight to the best drift drivers in the world."
It has been a busy off-season for the Papadakis Racing squad, with the team taking a trip to Chicago for the filming of Toyota's latest action clip, "The Focus Group" – which dropped last week and features the Rockstar Energy GR Supra drifting stunt sequences through an abandoned mall. Team owner Stephan Papadakis captured a behind-the-scenes look at the shoot for his popular Papadakis Racing YouTube channel.
The Rockstar Energy Toyota GR Supra is featured in its iconic Jon Sibal designed gold livery, which returns for 2022 with a new flash of orange from new partner ENEOS.
Also in the off-season, team drivers recorded a series of videos for Toyota's new GR86 "Fasterclass" campaign, which showcases the stunt driving skills of the Formula Drift teammates and features a cameo from Papadakis.
Back home in his native Scandinavia, Aasbo took advantage of deep freeze conditions for some ice drifting and made a trip back to Los Angeles to support Rockstar Energy Drink when the company took over a downtown LA gas station to hand out gas cards and energy drinks to ride-share workers.
For his part, Tuerck launched the Judd V10 powered Formula Supra project and has continued to upgrade his New Hampshire Drift House compound. He and wife Shannon Tuerck recently welcomed their first child, Roman Casey Tuerck.
Formula Drift is set to run a full schedule of eight event weekends this season at a mix of new and returning venues across the country. The Streets of Long Beach event returns to its familiar opening slot on the calendar. It is one of the most technical courses drivers will see all year as they are challenged to thread the needle between intimidating track walls, sliding sideways at 90-plus miles per hour through the Grand Prix course's Turns 9, 10 and 11.
"It's crazy to think that the first event of the season is also the gnarliest one," said Aasbo. "We are literally bouncing off the walls here in Long Beach. The feeling when you get it right is unbeatable – even though when you get it wrong it's an immediate catastrophe."
Team partner Rockstar Energy Drink announced Tuesday that it will join the Formula Drift championship as an official sponsor.
This weekend's event will deliver the series' typically generous access, with trackside grandstands and an open paddock where drivers are available to take photos and sign autographs with fans. The competition is streamed live across Formula Drift channels, with qualifying scheduled to go live Friday from 3:15 p.m. to 6 p.m. Pacific Time, and a full day of action on Saturday starting live from 10:30 a.m. to 2 p.m. with opening rounds and returning from 2:45 p.m. to 6:30 p.m. for the main event.
The Papadakis Racing team began drifting in 2004 and is the most winning team in Formula Drift history, earning the 2021 and 2015 titles with driver Fredric Aasbo, as well as back-to-back championships with driver Tanner Foust in 2007 and 2008. Partner Toyota has won the manufacturer's cup seven times since 2014.
Tuerck joined the Papadakis Racing team in 2020 in a Toyota Corolla Hatchback and has shown strong results, bringing home a third-place championship trophy in his debut season with the team and sixth overall in 2021.
The series last raced the streets of Long Beach in late September, with Aasbo claiming second. Aasbo has won in Long Beach twice before, in 2018 and 2015.
Drifting is a high-skill, high-powered motorsport with an emphasis on car control. In the Formula Drift series, drivers compete in knockout heats on a closed course, sliding sideways in trials judged on speed and style. With origins in Japan, the sport has rapidly grown to one of the most popular youth-oriented motorsports in the world. Here in the United States, Formula Drift officially launched in 2004 and its national schedule of eight events routinely host capacity crowds, while live-streamed multi-platform broadcasts attract millions of online viewers.
2022 Formula Drift Pro Championship Schedule
Round 1: April 1-2
Streets of Long Beach
Long Beach, CA
Round 2: May 6-7
Road Atlanta
Atlanta, GA
Round 3: May 20-21
Orlando Speed World
Orlando, FL
Round 4: June 10-11
Englishtown Raceway
Englishtown, NJ
Round 5: July 15-16
World Wide Technology Raceway
Madison, IL
Round 6: August 5-6
Evergreen Speedway
Monroe, WA
Round 7: September 16-17
Utah Motorsport Park
Salt Lake City, UT
Round 8: October 14-15
Irwindale Speedway
Irwindale, CA
---