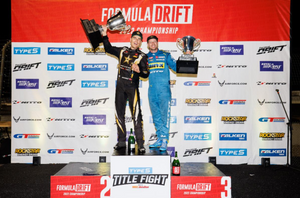 Papadakis Racing Toyotas return to Formula Drift for season opener
LONG BEACH, California (April 3, 2023) – Three-time defending Formula Drift champion Fredric Aasbo and title contender Ryan Tuerck return to competition with Papadakis Racing this weekend at the season opening Streets of Long Beach.
Aasbo will return to the series in the winning Rockstar Energy Toyota GR Supra, while Tuerck is back in the Rain-X / Nitto Tire Toyota GR Corolla.
"Every season the competition levels up in Formula Drift and I know this year will be one for the record books," said Aasbo.
He notes he is particularly eager to face down the only two other drivers to hold three Formula Drift titles: Chris Forsberg and James Deane. Both are returning to competition this season. "As a fan as well as a competitor, I'm excited to get to see everybody battle it out this year."
Ryan Tuerck took third in the 2022 championship after a wild Irwindale Speedway season finale last year that saw him take second after an all-Toyota final round. "I'm pumped to get back out there and give it everything I've got," he said. 
Between them, teammates Aasbo and Tuerck achieved seven podium results in eight rounds of competition last season, with Tuerck winning the season opener in Long Beach and Aasbo topping the podium at Round 2 in Atlanta and again at the Irwindale finale. The 2022 season also saw the team celebrate a Manufacturer's Cup victory for Toyota and a win for Nitto Tire in the Tire Cup.
The drivers have just completed a round of testing and are confident they're coming out of the off-season stronger than ever. Back home in his native Scandinavia, Aasbo took advantage of deep freeze conditions for ice drifting to hone his skills, while teammate Tuerck continued to develop his new compound in snowy New Hampshire.
Formula Drift is set to run a full schedule of eight event weekends across the country. The season opening Streets of Long Beach is one of the most technical courses drivers will see all year as they are challenged to thread the needle between intimidating track walls, sliding sideways at 90-plus miles per hour through the Grand Prix course's Turns 9, 10 and 11.
This weekend's event will deliver the series' typically generous access, with trackside grandstands and an open paddock where drivers are available to take photos and sign autographs with fans.
The competition is streamed live across Formula Drift channels, with qualifying scheduled to go live Friday from 3 p.m. to 6 p.m. Pacific Time, and a full day of action on Saturday starting live from 10:30 a.m. to 1:30 p.m. with opening rounds and returning from 3 p.m. to 6 p.m. for the main event.
The Papadakis Racing team began drifting in 2004 and is the most winning team in Formula Drift history, earning the 2022, 2021 and 2015 titles with driver Fredric Aasbo, as well as back-to-back championships with driver Tanner Foust in 2007 and 2008. Partner Toyota has won the manufacturer's cup eight times since 2014.
Tuerck joined the Papadakis Racing team in 2020 in a Toyota Corolla Hatchback and has shown strong results, bringing home the third-place championship trophy in 2022 and 2020.
Fans can follow the action for Tuerck and Aasbo by tuning in to the Rockstar Energy YouTube series "Controlled Chaos," which takes fans behind the scenes with Papadakis Racing. Binge watch the 2022 season now on YouTube at https://www.youtube.com/rockstarenergy and subscribe to follow along all season as new episodes drop.
Drifting is a high-skill, high-powered motorsport with an emphasis on car control. In the Formula Drift series, drivers compete in knockout heats on a closed course, sliding sideways in trials judged on speed and style. With origins in Japan, the sport has rapidly grown to one of the most popular youth-oriented motorsports in the world.
Here in the United States, Formula Drift officially launched in 2004 and its national schedule of eight events routinely host capacity crowds, while live-streamed multi-platform broadcasts attract millions of online viewers. 
---