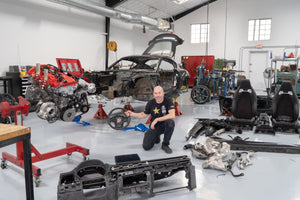 Papadakis Racing transforms new Supra into drift car
LOS ANGELES, California (February 21, 2020) - Legendary race car builder Stephan Papadakis today reveals what it takes to tear down a brand new production vehicle as he prepares to transform a 2020 Toyota GR Supra with 500 miles on it into a competition-ready drift machine. 
LINK TO EPISODE: https://youtu.be/SpF-Ek79DY4
"Tearing a brand new car down to bare metal feels really brutal," said Papadakis. "We've got this beautiful car that's had so much care and design put into it, and we're pulling it completely apart. It's something you don't see... basically ever."
In this episode, Papadakis and his crew show the process as they fully dismantle the production car, removing body panels, sound insulation, wiring harnesses and even the paint -- accomplished in a chemical bath that takes the vehicle down to bare metal.
Throughout the disassembly, the builder examines what makes the 2020 Toyota GR Supra a top performer on the street, while also beginning to develop a roadmap to the competition vehicle it will become.
"The teardown is a great chance for us to zero in on some of the vehicle's underlying engineering and understand how it all works," said Papadakis. "We go really deep because we need to get to a place where the car is a blank canvas before we can build it back into a race car designed to achieve specific on-track performance goals."
The chassis teardown video released today is a continuation of the wildly popular episodic YouTube series on the Youtube.com/PapadakisRacing channel that lifts the veil on the often secretive world of the sport compact scene and takes viewers into the process of building on the leading edge.
The first four episodes in this series achieved 7-million-plus views as Papadakis tripled the stock output of the Toyota B58 engine to produce 1,033 horsepower on an engine dyno. Now, he continues the transformation journey as he tears down a new car to its essential safety cell in preparation for the build-up into a full competition-spec Formula Drift car before the start of the 2020 season April 10-11 in Long Beach, California.
"Once we got the car down to metal, it was just a crazy feeling to step back and look at it in the shop and realize just how much we have to do in the next few months," said Papadakis. "It won't be easy but that's what makes it fun. And we're committed to sharing all of it as we go."
Slated to drive the car in Formula Drift this season is 2015 series champion Fredric Aasbo. It is expected he will make an appearance in a future episode of the build series, when the vehicle is tested on track for the first time.
The action oriented Formula Drift series features a diverse field of vehicles capable of fast sprints off the start line as well as wild, door-to-door slides. The Papadakis Racing team are three-time series champions with a long legacy in the sport, as well as roots in the Southern California drag racing scene. Papadakis is known for innovative builds that defy expectations and set trends in the automotive aftermarket. His builds have been featured in the Petersen Automotive Museum.
Under series rules, competing vehicles start their lives in the showroom, rather than being built from scratch, and are adapted to perform in the competition environment. Top performing cars are typically equipped with 1,000-plus horsepower engines, feature extensive competition safety roll cages, and are engineered to deliver an astonishing 65-degrees or more front steering angle. 
The 2020 Toyota GR Supra is an enviable platform to begin with. The Supra nameplate is a legendary performer with a long history in the sport compact scene. The 2020 Toyota GR Supra is rear-wheel drive and lightweight, and it comes equipped from the factory with a turbocharged inline six cylinder 3.0-liter engine rated at 335 horsepower and 365 lb.-ft of torque.
The B58 engine follows the beloved 2JZ model from the previous generation Supra. First introduced in the 1990s the 2JZ engine enjoyed more than 20 years of production. It remains a favorite of the aftermarket, with many tuners and racers still modifying it today for high-performance builds. 
Subscribe to https://www.youtube.com/user/PapadakisRacing to be notified as new episodes are released to the channel.
Papadakis is a legend of sport-compact racing. His winning vehicles defy expectations and lead industry trends. He established his reputation as an innovator in the 1990s with the first front-wheel-drive, tube-chassis drag car in the U.S. His team earned multiple records and championships, turning in elapsed times and trap speeds previously thought unattainable in front-drive drag cars.
Since moving to Formula Drift in 2004, Papadakis' winning vehicles include the landmark V8-powered Scion tC, and the current 1,000-horsepower, 4-cylinder rear-wheel-drive converted Toyota Corolla Hatchback -- which won its first outing in 2018 and is fighting at the front of the Formula Drift Championship this season. Two of his competition builds have been displayed in Los Angeles' Petersen Museum.
On YouTube, Papadakis has found a strong audience for his regular content uploads focusing on the technical side of racing and vehicle performance. Channel content has generated millions of views over the past few months and has topped 400,000 subscribers.
Season two of the build series is produced by Red Team LA in collaboration with Papadakis Racing.
---