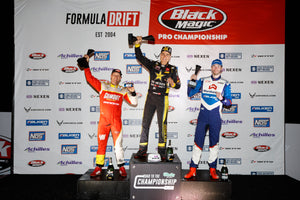 Perfect win for Fredric Aasbo at Road Atlanta
BRASELTON, Georgia (May 11, 2019) – Fredric Aasbo drove a perfect weekend at Road Atlanta to bring home the win the Rockstar Energy Drink / Nexen Tire Toyota Corolla hatchback on Saturday. With this result, the driver has now stood atop the podium at every track in the Formula Drift series.
"It feels great to finally come out on top at Road Atlanta," said Aasbo. "It has been my favorite stop since the first time I drove it: The track is challenging, the fans are die-hard and it has an incredible atmosphere. I love everything about this place."
Aasbo started strong, scoring the top qualifying spot under sunny skies on Friday with a near-perfect 99-point score. But as a storm system moved through the area on Saturday, everything changed.
"When rain starts coming down in Formula Drift, it turns everything upside-down," he said. "In this kind of weather you really have to trust your car and I can't thank my team enough for getting our Rockstar Energy Drink / Nexen Tire Toyota Corolla hatchback dialed."
Drifting in the rain calls for careful management of the ever-changing surface, a challenge magnified in Atlanta by the track's elevation changes and the slick clay that makes its way into the track as drivers push track limits. Setup is key.
"These cars are capable of 1,000-plus horsepower and, when it's wet, the question becomes how to find enough grip to get as much of that power to the ground as possible," said team owner Stephan Papadakis. "This weekend was about refining our setup so Fredric could attack the course with confidence despite the difficult conditions."
Local fans, accustomed to unpredictable weather, hunkered down with their umbrellas and stayed late into the night on Saturday to watch the best drifters in the world deliver an incredible show of car control on the slick track.
In the opening round, Aasbo faced down Pro series newcomer Kevin Lawrence to meet Matt Field, who spun out to hand the Top 16 match to Aasbo. The Great 8 saw a battle between titans, as Aasbo edged past three-time series champion Chris Forsberg to advance to the Final 4.
There, he met two-time defending champion James Deane, a longtime rival from Europe who has proven tough to beat in Formula Drift competition over the past two seasons. The duo showed what it takes to compete in difficult conditions, driving edge-to-edge on the wet track. Aasbo delivered a strong lead run and close chase to earn a spot in the finals, where he faced Toyota Racing Teammate Ryan Tuerck.
The  battle was close, and when the panel of judges delivered their verdict it was Aasbo who came out on top. Tuerck finished second and Deane rounded out the podium, in third. The win boosts Aasbo to second in the championship points heading into Round 3 at New Jersey's Wall Speedway July 7-8.
Drifting is a high-skill, high-powered motorsport with an emphasis on car control. In the Formula Drift series, drivers compete in knockout heats on a closed course, sliding sideways in trials judged on speed and style. With origins in Japan, it is one of the fastest growing forms of motorsport in the world.
---