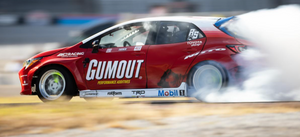 Ryan Tuerck extends Formula Drift points lead in Dallas
DALLAS, Texas (October 31, 2020) - The Papadakis Racing Toyota team notched up another podium on Saturday as Ryan Tuerck drove the Gumout / Nitto Tire / Mobil 1 Toyota Corolla Hatchback to victory at Texas Motor Speedway.
"It's an amazing feeling to take the win for Toyota and Gumout here in their home state," said Tuerck. "I have to give it to the team. They made some amazing setup decisions which kept my head on straight and pushing forward on the track."
Toyota is headquartered in nearby Plano, while Gumout is based in Houston. The win means Tuerck has extended his points lead with just three events remaining in the season. He has finished on the podium at four of five rounds in 2020.
There were no easy battles in Texas, as drivers worked to adapt to a new reverse-direction course configuration that saw many struggle with blinding smoke in the final turns. Teams will return to Texas Motor Speedway on Sunday for the second competition of the doubleheader weekend.
Rockstar Energy Drink driver Fredric Aasbo held onto his third-place points position and is ready to come back fighting on Day 2 after he finished Saturday in the Top 8. He advanced past Wataru Masuyama and Chelsea DeNofa before an error during his head-to-to-head with Jeff Jones saw him end his day in the Quarterfinal round. 
Aasbo launched out of the gate at the start of 2020 with a victory at the season opener in his all-new Rockstar Energy Drink Toyota GR Supra and followed that up with a second place at Round 3. He is the most winning driver in series history with a record 14 career wins.
Toyota is chasing points leader Ford for the Auto Cup, while team partner Nitto Tire is out front in the Tire Cup. There has been a Papadakis Racing Toyota on the podium at every round this season.
Formula Drift competition is streamed live online across the series' social media channels and this year has seen record Livestream tune-in and social engagement. Stream and content views for Rounds 3 and 4 achieved 3.7 million views on YouTube alone, and Formula Drift's social media engagement has led all other major racing series in the USA.
Aasbo joined Papadakis Racing in 2011 and earned the series crown in 2015. He started his Formula Drift career in 2010 as a privateer in a Mark IV Supra and comes full circle this season as he takes his first victory in his all new Toyota GR Supra. He finished fourth in Texas last year when an opponent crashed him into the trackside barrier and badly damaged his car.
Tuerck is a leading social influencer and top-tier driver with a career 18 podiums. His down-home charm, commitment to the sport's grassroots, and talent in front of the camera have brought him a social fanbase of over a million followers. Earlier this year, he retired his previous chassis, a powerful Toyota 86.
The Papadakis Racing team began drifting in 2004 and is the most winning team in Formula Drift history, earning the 2015 title with driver Aasbo, as well as back-­to-back championship titles with driver Tanner Foust in 2007 and 2008.
---