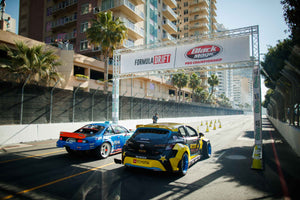 Solid season opener for Papadakis Racing
LONG BEACH, California (April 8, 2019) -- Defending winner Fredric Aasbo put in a strong performance Saturday and was running through the elimination ladder toward his first podium of 2019 until an engine failure halted his climb.
"Of course we're looking for the win every time we compete but this just wasn't going to be our weekend," said Aasbo. "Still, I'm leaving Long Beach feeling very good about the year ahead. I've been practicing a lot in the off-season and our chase runs in Long Beach were more aggressive than they've ever been. Let's bring that momentum to Orlando!"

On Friday, Aasbo qualified tenth, putting him in a corner of the bracket that would see him face down "Rad" Dan Burkett and Ryan Litteral before meeting two-time defending champion James Deane in the Great 8.

The head-to-head match with Deane was a fight that brought fans to their feet as the two drivers squared off in a battle decided by inches. Aasbo advanced to the Final 4 to meet Forrest Wang. But as Aasbo rounded the final turn in the first run of that round, the engine dropped one and then two cylinders and the team was forced to concede.

Aasbo had been a favorite to win the Long Beach opener after taking victory there last season on the way to a second-place result in the championship. He scored a total of six podium results in 2018, including two outright wins.

Earlier in the day during routine checks, the team had discovered a spark plug that showed signs of unusual wear. They were able to mitigate the effects of the damage for most of the day but fell just short of the final.

"When we discovered the problem, we ran through a troubleshooting list that included checking the quality of the new barrel of fuel we were using and reviewing fuel pressure but the damage was already done," said team owner Stephan Papadakis. "We were right on the edge of going to our spare engine but we weren't confident there was enough time to get it done and we hoped that we would be able to nurse it through to the end of the event."

Papadakis plans to detail the checks, repairs and preparation the team will undertake on his YouTube channel HERE

Papadakis has found a strong audience for his regular content uploads focusing on the technical side of racing and vehicle performance. The channel crossed a significant milestone over the weekend, passing the 100,000 subscriber mark.

Drifting is a high-skill, high-powered motorsport with an emphasis on car control. In the Formula Drift series, drivers compete in knockout heats on a closed course, sliding sideways in trials judged on speed and style. With origins in Japan, it is one of the fastest growing forms of motorsport in the world.

The team returns to competition April 25 - 27 in Orlando, Florida
---